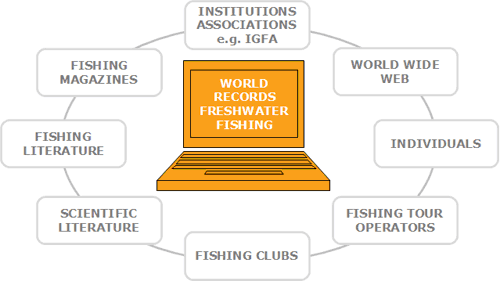 BOOKS (main references)
Allen (1989). Freshwater Fishes of Australia. Neptune City, United States: T.F.H.Publications Inc..
Bacmeister (1983). Das grosse Lexikon der Fischwaid. Stuttgart: Verlag Ifland.
Baensch/Fischer (1999). Aquarien Atlas Foto-Index 1-5. Melle, Germany: Mergus Verlag.
Berg (1964). Freshwater Fishes of the U.S.S.R. and adjacent countries. Jerusalem: Israel Program for Scientific Translation Ltd..
Buller (1979). The Domesday Book of Mammoth Pike. London: Stanley Paul.
Buller (2010). The Domesday Book of Giant Salmon Vol. II. London: Constable & Robinson Ltd..
Bursell (1999). Specimen Hunting. Cham, Switzerland: Müller Rüschlikon Verlags AG.
Copley (1952). The Game Fishes Of Africa. London: H.F.& G. Witherby Ltd..
Daget/Gosse/Thys van den Audenaerde (1984). Check-List of the Freshwater Fishes of Africa. Tervuren, Belgium: Orstom Paris.
Davies-Patrick (2004). Globetrotter's Quest. Lichtenvoorde, Netherlands: Westerlaan Publishers.
Grzimek (1970). Grzimeks Tierleben, Band IV-V Fische. Zurich: Kindler Verlag.
Harsányi (1982). Der Huchen. Hamburg, Berlin: Paul Parey Verlag.
Hochleithner (1996). Störe. Klosterneuburg, Austria: Österreichischer Agrarverlag.
Lasso (2014). Rayas de agua dulce (Potamotrygonidae) de Suramérica Parte I. Bogotá, Colombia: Alexander von Humboldt Biological Resources Research Institute.
Mc Dowall (1990). Freshwater Fishes of New Zealand. Wellington: MAF Publishing Group.
Müller (1987). Fische Europas. Leipzig: Neumann-Verlag.
Nelson (1994). Fishes of the World. New York: John Wiley & Sons Inc..
Petr (1999). Fish and Fisheries at higher altitudes: Asia. Rome: FAO Fisheries Technical Paper.
Ponniah/Gopalakrishnan (2000). Endemic Fish Diversity of Western Ghats. Lucknow, India: NBFGR-NATP Publication.
Ramsell (1997). A Compendium of Musky Angling History. St.Germain, United States: Musky Hunter Publications.
Sands (1984). Catfishes of the World. Scottland: Dunure Publications.
Scott/Crossman (1973). Freshwater Fishes of Canada. Toronto: Royal Ontario Museum.
Seifert/Kölbing (1995). So macht Angeln Spaß. Munich: BLV-Verlag.
Sigl/Terofal (1992). Die große Enzyklopädie der Fische. Munich: Mosaik Verlag.
Skelton (1993). Freshwater Fishes of Southern Africa. Zimbabwe: Southern Book Publishers Ltd..
Talwar/Jhingran (1992). Inland Fishes. Rotterdam: Balkema.
Thomas (1897). The Rod In India. London: W. Thacker & Co..
Tryckare/Cagner (1990). Das große Buch des Angelns. Hamburg: Jahr-Verlag.
Wade (2011). River Monsters: True Stories of the Ones That Didn't Get Away. Cambridge, United States: Da Capo Press.
Wood (1982). The Guinness Book of Animal Facts & Feats. Enfield Town, England: Guinness Superlatives Ltd..
MAGAZINES (main references)
IGFA World Record Game Fishes. (2023). Retrieved from online archive. IGFA, Florida, United States
Fresh Water Fishing Hall of Fame Record Book. (2020/21). Freshwater Fishing Hall of Fame & Museum, Wisconsin, United States
Field & Stream. (2020). Retrieved from online archive. Camden Media, Miami, United States
Blinker. (2023). Retrieved from online archive. Jahr Media, Hamburg, Germany
Fisch & Fang. (2023). Retrieved from online archive. Paul Parey Zeitschriftenverlag, Singhofen, Germany
WEBSITES (main references)
www.fishbase.org, knowledge base for all fish species in the world (2020)
www.anglingthailand.com, inofficial records of Thailand (2020)
www.anglingtrust.net, official records of United Kingdom (2020)
www.ansa.com.au, official records of Australia (2020)
www.briancoad.com, inofficial records of Iran and Iraq (2020)
bowfishingassociation.com, bowfishing records of USA (2020)
fish-news.teia.org, inofficial records of Russia (2020)
www.wired2fish.com, state fishing records of USA (2020)
www.ontariofishes.ca, records of USA and Canada (2020)
www.safbaf.org.za, official records of South Africa (2020)
wiadomosciwedkarskie.com.pl, official records of Poland (2020)
www.vapaa-ajankalastaja.fi, official records of Finland (2020)
Charara, official records of Zimbabwe, www (2012)
China Fishing Magazine, official records of China, www (2005)
Jung, official records of Korea, www (2007)
Magyar Horgász, official records of Hungary, www (2018)
Malek, inofficial records of Malaysia, www (2019)
CONSIDERED COUNTRY RECORDLISTS
| | |
| --- | --- |
| Europe | Asia |
| Austria | China |
| Belgium | Japan |
| Czech Republic | Malaysia |
| Denmark | Philippines |
| Finland | South Korea |
| France | Thailand |
| Germany | |
| Hungary | Africa |
| Ireland | South Africa |
| Italy | Zimbabwe |
| Latvia | |
| Netherlands | North America |
| Norway | Canada |
| Poland | USA |
| Romania | |
| Slovakia | South America |
| Spain | Argentina |
| Sweden | Brazil |
| Switzerland | |
| United Kingdom | Australia |
| | Australia |
| | New Zealand |